GOLDEN POND GROTTO
DISCLAIMER OF LIABILITY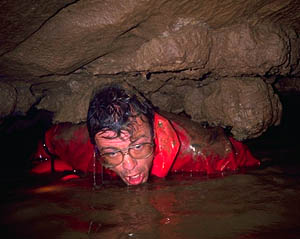 Caving can be dangerous. Serious injury or death can result when irresponsible, inexperienced, or ill-equipped persons attempt cave exploration. The responsibility for the consequences
of using any information contained within this web site, or linked web sites, is yours.
If you decide to go caving, please do so through a local caving club or grotto affiliated with the National Speleological Society. Your
local grotto will be able to train you in the techniques necessary for a safe subterranean trip.
ABOUT THE GPG | MEETINGS | MEMBERSHIP
PROJECTS | CALENDAR OF EVENTS | CAVE MAPS
IMAGE GALLERY | LINKS
Image of experienced cave explorer Paul Bramer negotiating a near sump in Necronom, Webster Cave System, © 1996 Chris Anderson